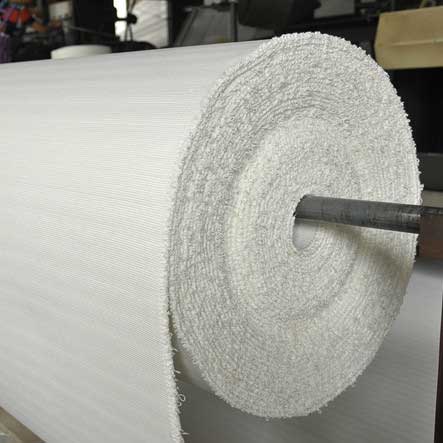 What is
Air Slide Fabric?
The new airslide fabric (air slide canvas) is developed by our factory adopts advanced technology.Air sliding fabrics are used for pneumatic conveying of fine dry products such as cement and other raw materials. Airslide fabric is a solid fabric used for air sliding.
It is suitable for pneumatic transportation of powdery materials such as cement and alumina. It is also suitable for pneumatic conveying devices of other powder and granular materials. An Airslide belt is in the middle of a chute. Powder material will come into the chute above Airslide belt. Material will flow to the chute lower side as pneumatic blower down Airslide belt.The product is spread between the material and the air chamber, the following is the gas chamber, the above is the material, under the action of air pressure through the product, the material fluidized, so as to achieve the purpose of transport.
Our air slide fabric is named as fluidising fabric,Airslide fabric, Air slide cloth,fluidizing fabric,aeration pad,aeration fabric,air permeable fabric, Air slide canvas, Air Slide Belt Fabric,air slide fabrics and Fluidization cloth, Fabrics for Air Slides.